---
freeson, c'est dans l'intitulé, c'est libre. Libre de partir dans tous les sens musicalement (breakcore, folk, rock n roll), et verbalement, ne loupez pas l'édito de Stiff.
(Et de mettre des photos qui font mal aux yeux!)
---
freeson#488 MONSTRES part.1 feat. ETIENNE
11-04-2014

WHITE ZOMBIE Cosmic Monsters Inc.
OTTO VON SCHIRACH Strange Visitor From Another Planet
THE MONSTERS The Creature Of The Black Lagoon
BARON DAEMON AND THE VAMPIRES Transylvania Twist
THE MOON LAY HIDDEN BENEATH A CLOUD Untitled
JEFFREY LEWIS If You Shoot The Head You Kill The Ghoul
THE BOMBORAS A Fistful Of Terror
BEAT CIRCUS The March Of Freaks
THE RAMONES Pinhead
STUPEFLIP Les Monstres
THE CURE A Forest
---

THE CURE Carnage Visors (28'35)



LARD Time to Melt (31'59)



BONG-RA Annus Horribilus [2013-2014]
http://bong-ra.bandcamp.com/album/annus-horribilus-2013-2014
---
Vieilleries :
ATARI TEENAGE RIOT – Revolution Action
BODY COUNT – Born Dead
SOLAR X – Dasha 1 2 3 4
SEILMAN BELLINSKY - Akshipthika
BACHAR MAR-KHALIFE - Ya Nas (NLF3 Reworks)
THOT - Dédale
MELLANOISESCAPE - The best death
OLIVIER MELLANO & FRIENDS (RALBUM) - Une bonne droite
THE YUKON DREAMS - On the water
ELECTROMECA - Platinum bollox
TEAM WILD - Ô my broken heart (http://teamwild.bandcamp.com)
SIR.VIXX - I want him dead (Delta 9 Remix)
WOOVENHAND - Hiss
FRANCOIS & THE ATLAS MOUNTAINS - La vie dure
APHASIA - Paradis?
---
freeson #485 carte blanche à Olivier Mellano
14-03-2014
Une émission spéciale avec Olivier Mellano à l'occasion de la sortie du premier album de MellaNoisEscape, son nouveau projet solo!
Ecoute exclusive des titres de l'album et playlist spécialement concoctée par Olivier Mellano.
Pour commander l'album, c'est par là: http://www.ulysseproductions.com/shop/home/20-album-mellanoisescape.html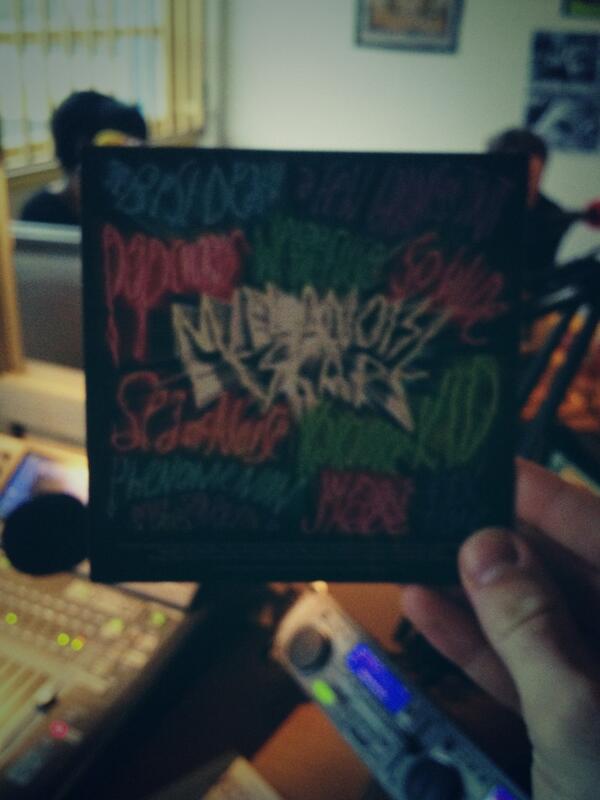 DISCO DOOM - Cptn. Petal & Mr. Scar
MELLANOISESCAPE - the best death
WIRE - Doubles and trebles
MELLANOISESCAPE - We are the fuse
PSYKICK LYRIKAH - Ligne rouge
WAKA FLOCKA FLAME : Lurkin
MELLANOISESCAPE - Popchords
MELLANOISESCAPE - Karaoke Kid
REGIS BOULARD - Still drums
MELLANOISESCAPE - Sea of noise
GIRLS AGAINST BOYS - It's a diamond life
---
freeson#484 : best of éditos et vieilleries
07-03-2014
Cette semaine, un FREESON spécial édito et vieilleries, soit un florilège incroyable composé des éditos décapant de Stiff et une sélection des meilleures vieilleries qui ouvrent chaque émission...

27/09/2013
THE WHO won't get fooled again
PIXIES broken face
13/12/2013
THE AUTEURS junk shop clothes
EC8OR the one and only high and low
MODERN LOVERS i'm straight
20/12/2013
LOVE alone again or
HELMET blacktop
24/01/2014
BAUHAUS bela lugosi's dead
THE WEDDING PRESENT rocket
SONIC YOUTH within you, without you
31/01/2014
THE STONE ROSES i wanna be adored
THE NOTWIST electric bear
KAS PRODUCT one of the kind
07/02/2014
DOMINIQUE A le courage des oiseaux
TIM BUCKLEY song to the siren
CHARLATANS weirdo
---